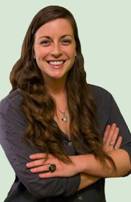 Morgan Cairns joins Pear Bureau Northwest staff
PORTLAND, Ore. (March 30, 2016) – Pear Bureau Northwest is pleased to announce Morgan Cairns has joined the company as Sampling & Event Coordinator.
Cairns brings diverse experience in events, foodservice, communications, and graphic design to the Pear Bureau Northwest team. Most recently, Morgan developed and implemented innovative social media strategies for clients at Expand YOUR Brand in Portland. Previous employers include Winning Mark and BRIX Tavern.
"I can't wait to sink my teeth into the Sampling & Event Coordinator position at Pear Bureau Northwest," said Cairns. "I'm proud to join this creative and hard working team. Plus pears happen to be my favorite fruit."
"Morgan's enthusiasm, drive, and experience will be an asset to PBNW," said Kevin Moffitt, Pear Bureau Northwest President and CEO.  "In store sampling and event sampling are essential parts of our marketing plan, encouraging consumer trial, impacting sales, and driving repeat purchases. With Morgan onboard, we can make demos more effective, increase consumer loyalty to pears, and increase pear sales. We are very pleased to have her join our team."
Cairns earned a BA in Applied Arts & Sciences with a focus on Graphic Design from San Diego University, and completed Wings personal development seminars in Eugene, Ore. Morgan lives in Portland, Ore, and enjoys snowboarding, hiking, cooking, and travel.
# # #