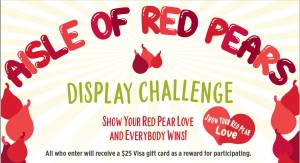 Retailers show major red pear love with easy-to-enter display challenge
PORTLAND, Ore. – March 18, 2021 – Ladies and gentleman, we have the first winner in our nationwide "Aisle of Red Pears" (Say it out loud!) display challenge! While every entry is an instant winner, Pear Bureau Northwest (PBNW) is pleased to announce the first winner of one of our grand prize drawings of a $500 GIFT CARD. The initial prize goes to a Fresh Thyme store. It's not too late to enter and take home a big prize. Taking place from January through March, the challenge is still open for retailers of all sizes in the U.S. and Canada.
"The produce team at the Fresh Thyme store in Iowa was among the many high caliber entries we received for this challenge. All Fresh Thyme locations have always showed passion and creativity when it comes to merchandising pears, and we are happy to see them win one of our 'Aisle of Red Pears' grand prizes," said Regional Marketing Manager Bob Catinella.
The challenge is simple to enter, with all entries receiving a $25 gift card. To enter, retailers are required to upload a photo of an eye-catching, 12-square-foot display of Red Anjou pears. See details and entry form here.
"We are excited to select an early winner for our first ever 'Aisle of Red Pears' display challenge, which has thus far received an enthusiastic response from retailers," said Kevin Moffitt, President and CEO of PBNW. "Red pears are often overlooked in the category, so asking retailers to build large, eye-catching displays of red pears is an effective way to increase sales of Red Anjou pears and pears in general. By making the challenge simple to enter and making everyone an immediate winner, we have seen some amazing displays that are resulting in double digit sales increases."
Alongside Green Anjou and Bosc, Red Anjou pears are among the key varieties of Northwest pears that PBNW promotes during the second half of its season. The "Aisle of Red Pears" display challenge is one of the many innovative promotional tactics the organization has carried out this season on behalf of its growers and shippers. PBNW continues to push boundaries and explore new ways to drive sales of Northwest pears.
View and download photos of some of our favorite entries here.