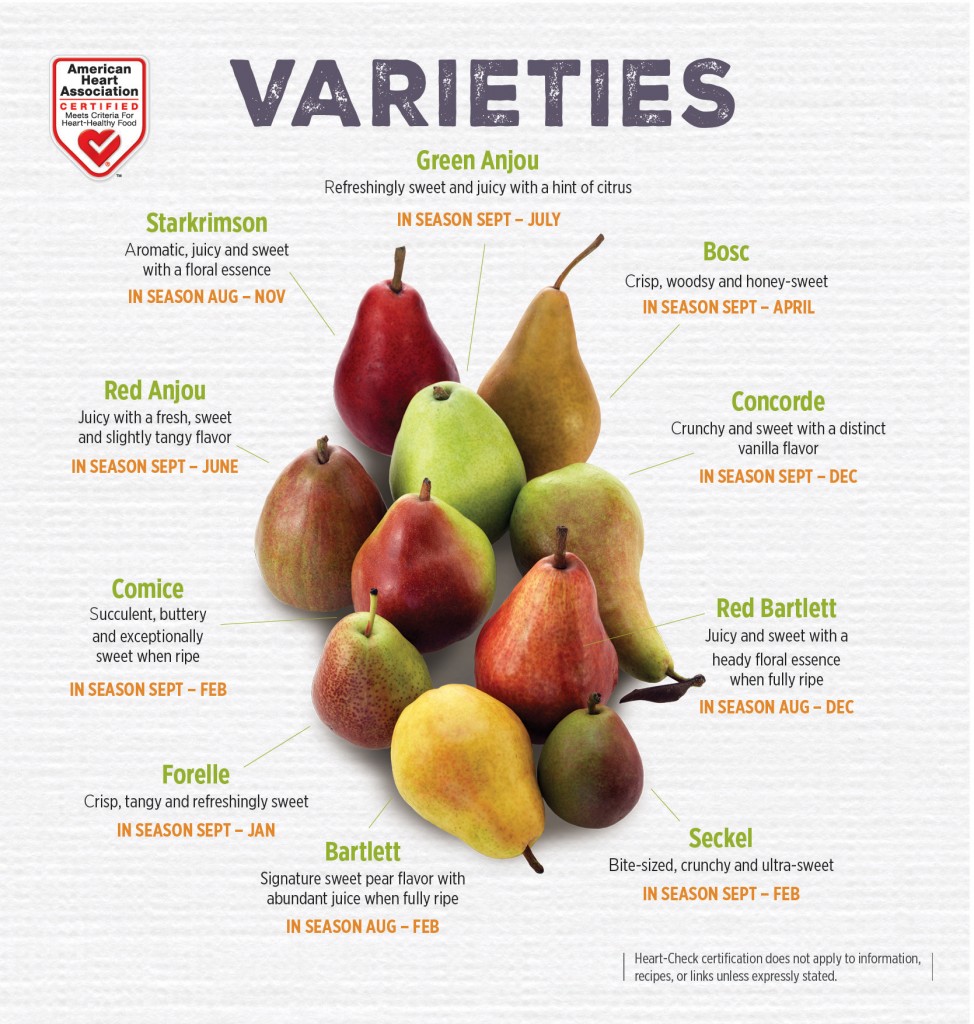 American Heart Association® confirms all 10 varieties of USA Pears Heart-Check Certified
PORTLAND, Ore. – December 13, 2018 – Following a successful introduction of the Red Anjou, Bosc and Bartlett pears over the last few years, Pear Bureau Northwest is announcing the expansion of American Heart Association's Heart-Healthy branding to all of the 10 varieties of pears from the Northwest.
"We have received positive feedback from retailers and nutritionists throughout the industry since launching the Heart-Healthy certification of Anjou, Barlett and Bosc pears, and we are pleased to expand the program to all of the varieties available under the USA Pears brand," said Kathy Stephenson, Marketing Communications Director of Pear Bureau Northwest.
Including all pear varieties in the program allows for easier use of the heart check logo for grocers and retailers. Since 88% of all fresh pears come from USA Pears, placing a heart check logo on the pear shelf is now an excellent opportunity for retailers. It also provides additional chances to educate consumers about pears being a heart-healthy choice with low calories, zero fat, and 6 grams of fiber per medium-sized pear.
With focused outreach to practicing nutritionists in communities, supermarkets, schools and more, Pear Bureau Northwest has promoted the benefits of eating whole foods and increasing fruit consumption to decrease the risks of heart disease, diabetes and other serious illness. Stephenson added, "Our partnership with the American Heart Association's Heart-Healthy program allows us to further promote the nutritional benefits of all 10 varieties of pears from Oregon and Washington, providing extra incentive for consumers to add pears into their shopping cart."
The American Heart Association Heart Check logo is found on all USA Pears POS, social media and web content, and will be a feature in February's American Heart Month and National Nutrition Month in March promotions.
Access American Heart Association® and USA Pears logos and visual assets here.