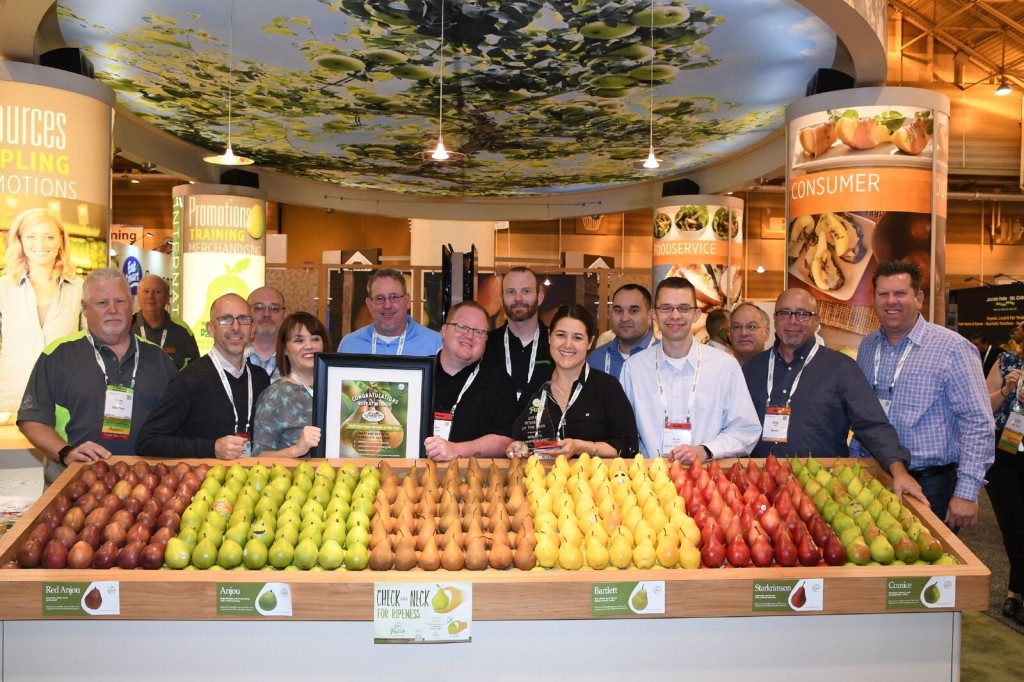 Portland, Ore.  (October 23, 2017) – Pear Bureau Northwest is excited to present the award for 2017 Pear Retailer of the Year to Sprouts Farmers Markets Produce Warehouse. The award, which was presented on the show floor of the 2017 PMA Fresh Summit in New Orleans on October 21st, is based upon an exemplary record of pear category improvements in merchandising performance and sales increase. 2017 marks the second consecutive year Sprouts has received the honor of Pear Retailer of the Year.  "Sprouts has again done an outstanding job of building their pear category," stated Kevin Moffitt, Pear Bureau Northwest CEO. "On behalf of nearly 900 pear growing families in the Pacific Northwest, we congratulate the Sprouts team and truly appreciate their support and focus on pears."
Each year, Pear Bureau Northwest partners with grocery retailers across North America to increase overall success in the pear category. Continuing on their path of the previous year, Sprouts has pursued many of the best practices for increased pear category sales recommended by USA Pears, including displaying two green pear varieties at once. They also give shoppers choices by promoting multiple pear varieties, carrying two sizes of top selling varieties, increasing impulse purchases through in-store sampling, allocating plenty of the valuable front of store space to pear displays, and training personnel to improve category knowledge. "The implementation of these best practices no doubt brought new consumers to the category while fully satisfying and pleasing their current pear customers leading to increased sales," said Moffitt.
"Sprouts carries an incredible amount of variety for their customers. They carry Anjou, Bartlett, Bosc, Comice, Concorde, Starkrimson, Forelle, Seckel and other pear varieties as they become available," explained Dave Howald, Western Regional Manager for Pear Bureau Northwest. "When they do a promotion like 'Pear-Fection', they create custom signage and build beautiful large displays to create excitement and generate sales."
Sprouts Director Chad Miller cited pear selection has been a key factor to success and aligns with the company's dedication to earning customer trust. "Customers trust Sprouts for our selection of fresh produce, including pears, and that trust has grown year over year as we expand our footprint and reach even more shoppers," he said, adding that two additional factors are "merchandising that supports the entire product mix and team members that are equipped to answer questions helps shoppers when purchasing pears."
Produce managers at Sprouts consistently seek opportunities for their staff to learn from experts, and providing training pays off with happy, engaged customers and increased pear sales. Miller pointed out, "We are known for our knowledgeable team members and provide them continued education on our selection of pears, which translates to enhanced customer engagement with the product."
Miller is honored to accept this award on behalf of the company. "Sprouts is very excited to be recognized and to know that the effort of our team members continue to make our stores a trusted destination for pears," he said.
This year, Pear Bureau Northwest also recognizes Bristol Farms, Dave's Markets, Defense Commissary Agency, Giant Eagle, H-E-B, Heinen's Grocery Store, Jewel-Osco and Tops Friendly Markets for their outstanding performances in boosting pear sales and consumption.
The Pear Retailer of the Year Award was established by Pear Bureau Northwest in 2011. Past honorees were Demoula's Market Basket (2011), Meijer (2012), Ingles (2013), Publix Markets (2014), Wegmans (2015) and Sprouts Farmers Markets Produce Warehouse (2016). The Pear Bureau's team of regional marketing managers selects the annual recipient based on Northwest pear's category performance, creativity and best practices in pear merchandising, and overall excellence in supporting the pear category.