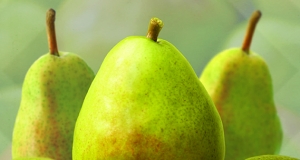 PEAR BUREAU NORTHWEST LAUNCHES REDESIGNED TRADE WEBSITE
Design Responsive Site Brings Valuable Information to Retailers and Industry
Portland, Ore. – December 28, 2015 – On behalf of nearly 1,600 growers of Northwest pears, Pear Bureau Northwest is pleased to introduce a redesigned trade website focused on "the business of pears." Providing pear category resources from crop information to training and marketing support, this mobile- and tablet-ready website provides a localized tool kit for growing pear category sales.
"We have conducted a lot of research to identify pear consumption trends and retail merchandising best practices to help retailers grow their pear category." says Kevin Moffitt, Pear Bureau Northwest President and CEO. "Providing this data and actionable business building tactics with merchandising tools in a single location increases our ability to serve as a trusted resource for our retail partners."
Visitors to trade.usapears.org will find information about pear varieties and availability, marketing trends and research, and promotion and merchandising materials. The site is also home to the brand-new USA Pears University, which offers resources to help produce professionals improve their pear knowledge, including an on-line training course covering handling and merchandising. The site also has instructional videos for demonstration and sampling staff.
"We hear from produce managers that training is the single most important way to improve performance and enhance the shopper's experience. Our training program helps to successfully fill this need and set up retailers for better success in the pear category," says Moffitt. The website also features a Marketing Tools section that includes a point-of-sale material gallery as well as links to download customizable header cards and a social media toolkit.
# # #