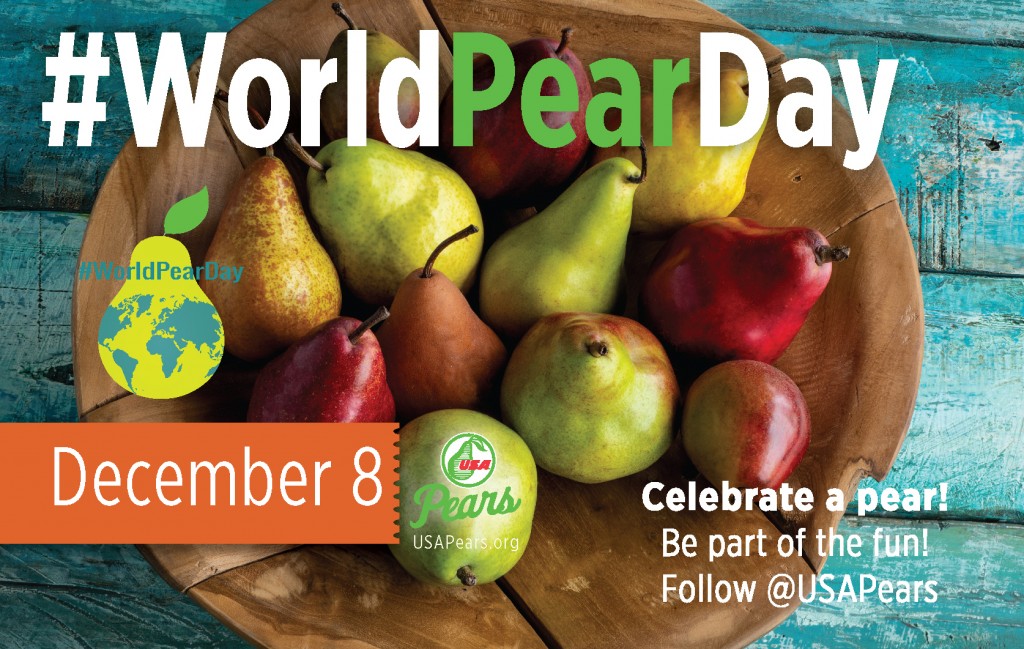 Worldwide pear sampling event returns for 4th year
Access approved images, logos and retailer tools HERE
PORTLAND, Ore. – November 13, 2019 – Pear Bureau Northwest (PBNW) will once again celebrate World Pear Day for the fourth year in a row. The event marks the start of National Pear Month, proclaimed as December each year by U.S. Department of Agriculture. Taking place on December 8th, World Pear Day will celebrate peak pear season with festivities around the world where consumers will get to enjoy fresh pear samples from the Northwest at a variety of venues. The international event will be chronicled extensively on the USA Pears social media channels (Instagram, Twitter, Facebook) and using the #WorldPearDay hashtag.
Beginning in New Zealand and moving west across the globe, consumers will be able to taste a variety of USA Pears via pop-up sampling events in more than 24 countries including Taiwan, India, United Arab Emirates and Mexico for 24 hours of continuous sampling and promotion. There are nearly 1,000 in-store sampling events scheduled in the U.S. and Canada. The day will conclude in Leavenworth, Washington at the annual 
Tree Lighting Festival
, where visitors will get to meet pear growers firsthand and celebrate the season.
Kevin Moffitt, President and CEO of Pear Bureau Northwest, sees the pear festivities as an effective way to connect directly with consumers. "World Pear Day is a great way to draw awareness to Northwest pears during peak season. It is fantastic to see its popularity growing each year with more interaction with retailers and consumers around the world raising pear enthusiasm and purchases at the pinnacle of the pear season."
Northwest pears are now at their peak and available worldwide, making World Pear Day and National Pear Month an ideal time to celebrate their abundance. The ten varieties of pears grown in Washington and Oregon include Green Anjou, Red Anjou, Bartlett, Red Bartlett, Bosc, Comice, Concorde, Forelle, Seckel, and Starkrimson.