Trendy new protein sources may give some consumers the willies, but others find them a sustainable alternative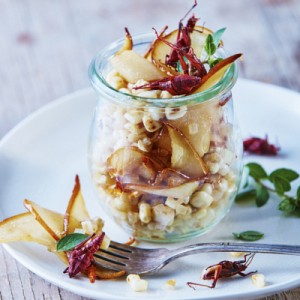 Download Cricket Flours and USA pears recipe images
Portland, Ore., October 25, 2016 – USA Pears partners with Cricket Flours to create innovative and cutting edge Halloween themed promotions, recipes and social media tie-ins.
"Alternative, healthy and sustainable protein sources are generating considerable consumer interest," says Kevin Moffitt, President & CEO of Pear Bureau Northwest. "With so much access to new food information, consumers are changing the way they eat and trying new foods." We thought it was a great time to pair a pear with these sustainable proteins and shake up the fruit category."
The campaign will include a blog post from Cricket Flour Founder & CEO, Charles Wilson, discussing the trend and what he sees as the benefit to alternative proteins posted on blog.usapears.org, three new recipes combining pears and alternative protein flours, social media posts leading up to Halloween sharing the blog, recipes and some spooky, unexpected alternative proteins.
"What better time to talk about something so new that some consumers may be a little wary than October?" says Moffitt. "In addition to being interesting, it's fun to share new ideas. You think Cricket Flours are unusual, just check out the alternative protein recipes we developed with our Mexico team!" To get in on the action, read the posting on blog.usapears.org and visit any of the USA Pears social media accounts (@USAPears),  and USAPears.org.
About Pear Bureau Northwest
The Pear Bureau Northwest is an 85-year-old nonprofit marketing organization established to promote the fresh USA Pears grown in Washington and Oregon. The Bureau represents nearly 1,600 growers that produce 84 percent of the nation's heirloom, fresh pear crop and develops national and international markets for Northwest pear distribution. For more information, visit www.usapears.org, www.facebook.com/USApears, and follow @USApears on Twitter.
# # #