Bartlett and Bosc pears certified Heart-Healthy by the American Heart Association®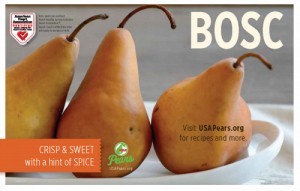 Portland, Oregon– October 5, 2016 – After a successful introduction of the Heart-Check certification for Green and Red Anjou pears last season, USA Pears expands American Heart Association's heart-healthy branding to Bartlett and Bosc pears from the Northwest.
The top three pear varieties produced by Northwest growers remain the same as in previous years: Green Anjou pears are anticipated to make up 50% of the total 2016 crop, and Bartlett and Bosc pears are expected to yield 23% and 17%, respectively.
"We received positive feedback from retailers and nutritionists throughout the industry when we launched the Heart-Check certification of Anjou pears in the spring and are pleased to expand the program to new varieties." said Kevin Moffitt, president and CEO of Pear Bureau Northwest.
USA Pears' outreach to practicing nutritionists in communities, supermarkets, schools and more, focuses on the benefits of eating whole foods and increasing fruit consumption to decrease risks of heart disease, diabetes, and other serious illness. Moffitt added, "Our involvement in the American Heart Association's Heart-Check Certification program reinforces the nutritional benefits of pears, providing incentive to consumers to add pears into their shopping cart."
The American Heart Association Heart-Check mark is found on all Anjou, Bartlett and Bosc POS, social media and web content and will be a feature in February's American Heart Month and National Nutrition Month in March promotions.
About Pear Bureau Northwest
The Pear Bureau Northwest is an 85-year-old nonprofit marketing organization established to promote the fresh USA Pears grown in Washington and Oregon. The Bureau represents nearly 1,600 growers that produce 84 percent of the nation's heirloom, fresh pear crop and develops national and international markets for Northwest pear distribution. For more information, visit www.usapears.org, www.facebook.com/USApears, and follow @USApears on Twitter.
About the American Heart Association and American Stroke Association
The American Heart Association and the American Stroke Association are devoted to saving people from heart disease and stroke – the two leading causes of death in the world. We team with millions of volunteers to fund innovative research, fight for stronger public health policies, and provide lifesaving tools and information to prevent and treat these diseases. The Dallas-based American Heart Association is the nation's oldest and largest voluntary organization dedicated to fighting heart disease and stroke. The American Stroke Association is a division of the American Heart Association. To learn more or to get involved, call 1-800-AHA-USA1, visit heart.org or call any of our offices around the country. Follow us on Facebook and Twitter
# # #